Glastry Farm Ice Cream are delighted to announce our first export deal outside the UK and Ireland!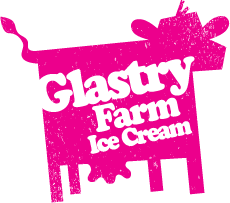 Glastry Farm's success in the UAE was announced by Alastair Hamilton, Chief Executive of Invest Northern Ireland during a visit to the Gulfood exhibition in Dubai on 19th February 2018. Alastair said: "There is a wealth of export opportunities in the UAE for Northern Ireland food companies and it is great to see another Northern Ireland company achieving success here.
"This is Glastry Farm's first export success in the Middle East. The company was first introduced to Pure UAE during an Invest NI inward buyer visit to Northern Ireland last year which helped it to secure the contract. It's great to see them now exhibiting here at Gulfood, looking to build on this success.
"Gulfood is recognised as the ultimate springboard for Northern Ireland food and drink companies to enter and win new business in the UAE market. This year we are helping 17 Northern Ireland companies to attend as part of the Northern Ireland stand and we will be supporting them to identify potential new partnerships and export opportunities."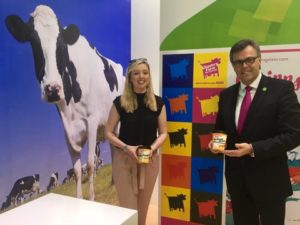 (Pictured above R – Alastair Hamilton, Chief Executive of Invest Northern Ireland; L – Chloe Burgess, Production Manager of Glastry Farm Ice Cream)
Chloe Burgess, Production Manager from Glastry Farm Ice-Cream said:"We are delighted to have secured a deal with Pure UAE in Dubai. This is our first business outside of the UK and Ireland and Invest NI's support has been very important to us in making this major step into international markets. Had they not provided the opportunity for us to meet potential buyers from the Middle East we would never have had the chance to showcase our products and build a relationship with Pure UAE."
The deal will see Glastry Farm supply a range of its award winning ice cream and sorbets to Pure UAE's extensive network of retail and foodservice customers in the UAE.
"The meeting with Pure UAE took place at our production unit in Kircubbin and served as a great relationship builder. This is a very exciting opportunity to have our brand recognised on an international stage. We understand that relationships are key to winning new business in this market which is why we have chosen to attend Gulfood. We have been very encouraged by the contacts we have made today and look forward to building on our success."added Chloe.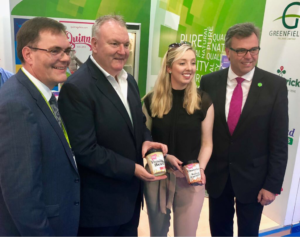 (Pictured above R-L: Alastair Hamilton, Chief Executive of Invest Northern Ireland; Chloe Burgess, Production Manager at Glastry Farm; Alan O'Donnell, Chief Executive of Pure UAE; Karl Devlin, Senior Food Adviser at Invest Northern Ireland.